Extending SQL Server 2016 for Linux Operating system
We know Microsoft loves Linux, the open source opertaing system. A real love. Not a joke. Microsoft announces the new deal for his big DBMS SQL Server 2016 for the Operating System Linux. A beta version has been tested in some enterprises. And the test has been well concluded.
This is the first time for Microsoft to deploy his famous Data Base Management System on other operating system than Windows. But, the fact of that strategy is of course the powerful position of Linux in servers branch in many enterprises. So, it can be major for Microsoft to « control » this statement.
What about SQL Server 2016?
For the new version of the Microsoft DBMS, many orientations have been given. Language R for Statistics will be integrated. Here are some benefits of that upcoming system SQL Server 2016 who is going to run for Linux too.
– Groundbreaking security encryption capabilities that enable data to always be encrypted at rest, in motion and in-memory to deliver maximum security protection
– In-memory database support for every workload with performance increases up to 30-100x
– Incredible Data Warehousing performance with the #1, #2 and #3 TPC-H 10 Terabyte benchmarks for non-clustered performance, and the #1 SAP SD Two-Tier performance benchmark on windows
– Business Intelligence for every employee on every device – including new mobile BI support for iOS, Android and Windows Phone devices
– Advanced analytics using our new R support that enables customers to do real-time predictive analytics on both operational and analytic data
– Unique cloud capabilities that enable customers to deploy hybrid architectures that partition data workloads across on-premises and cloud based systems to save costs and increase agility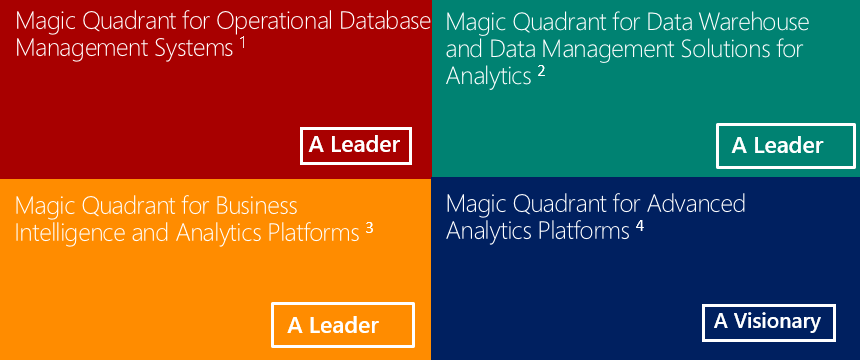 Gartner (again) named the Redmond's firm as a leader in the Magic Quadrant for operational Database Management Systems. Microsoft is in Gartner's Magic Quadrant for Data Warehouse and Data Management Solutions for Analytics, and Magic Quadrant for Business Intelligence and Analytics Platforms, as well as leading in vision in the Magic Quadrant for Advanced Analytics Platforms.Since the growing of Windows Server 2003 (R2) or 2008 for Server 2012, many options have been set up for Microsoft DMBS's in order to be up to date with the fastest growing of technologies.
We can find for those operating systems modules for BI (Business Intelligence) running on any devices, Statistics procedures using R Language. Yes, the platform can support higher data analytics using the power of R scripts. The cloud hasn't been forgotten. Customers can deploy hybrid architectures. If you have applications which have been developped for running with Oracle, this one can be imported in Microsoft Platform as SQL Server.
Extending SQL Server to be ready for Linux, will embedded all those features as saying above.
Tounsi Gilles.